Shammi Kapoor, is one of a kind. An "original". He blended youthful freshness with his unique style rooted in time, place and his own talents. Shammi Kapoor revolutionised the concept of romance in Hindi films (Bollywood) and he expanded the scope and function of the filmi song sequence. He brought to both, the love scenes and the songs, a highly personal, westernised style, an intensely erotic presence. More important and less appreciated, is the fact that Shammi Kapoor's contribution (like Dilip Kumar's) has been absorbed into the mainstream of popular cinema in India, becoming part of the larger tradition every actor is heir to. In his early films (Tumsa Nahin Dekha was followed by Dil Deke Dekho, Singapore, Junglee) Shammi Kapoor established a very strong physical presence on screen that reinforced this youthfulness. He wouldn't sit still or walk straight. He jumped, bounced, swayed, and cavorted. To watch him tease the heroine was much like observing an overgrown pup romping and frolicking in a bed of prized roses.

This spirit, even hyperactivity, was carried into the song renditions. Songs became Shammi Kapoor's forte, and his special way with them was and is his most readily identifiable trademark. In the most memorable of them, his body language becomes the new third dimension to the tune and the lyrics Love is courted with outstretched arms and a rougish glint in the eyes; love is promised with broad shoulders thrown back and arms spread out to encompass the heavens; love is supplicated on bended knee, shoulders hunched forward, and with eyes that plead and burn at the same time. There are many classic Shammi Kapoor poses. The head snaps sideways as he glares over a turned shoulder; it is thrown back as he exults in his emotions; it snaps straight as he asserts his proud masculinity. The hand can point the index finger to his heart where he has hidden her. Each part of the body is orchestrated to the music as he swings, lurches and undulates.He made of the Hindi film song tradition a primitive courtship ritual, which often included a - Me-Tarzan-You-Jane message, tapped out in rhythmic code.He exuded a macho charm, an almost narcissistic awareness of his masculinity. His rendition of the song Hum aur yeh samah in Dil Deke Dekho exemplified his control of a delicate balance. He brings to the fog-draped early morning atmosphere, an erotic quality quite rare in Hindi films. He is seductive in his bearing and his eyes, but any hint of passion is toned down by the virginal white of his outfit and an uncommon tenderness of manner. This early Shammi Kapoor (upto about 1964 or so) was, in style and screen image, distinctly westernised.
The one most powerful influence on Shammi aside from Western music was Elvis Presley. In the way he moved, in the suggestiveness of his song-dance routines, in the curl of his lip and the veiled invitation in his eyes in all of these, Shammi Kapoor brought the American king of rock-and roll to Indian cinema. Like Presley, Shammi also developed very early an unerring instinct for the kind of music "right" for him. He took an unprecedented interest in the details of his films' music, personally selecting tunes, attending song recordings and even alerting playback singers to his special needs (it is well-known that Mohd. Rafi developed a singing style to suit Shammi Kapoor). Thus a lot of credit for the music of the films he starred in goes to the actor himself.The Shammi Kapoor he has left behind in less than a dozen films was a tradition in himself. The jaunty ladykiller with bedroom eyes, the flamboyant hero with explosive energy, the inimitable song-and-dance man with a unique way with music these are images powerful enough to defy time, to court a new generation of moviegoers, and to inspire a new era of stars.
Shammi Kapoor's real name is Shamsherraj Kapoor. The son of the veteran actor Prithviraj Kapoor was born on 21st October 1931, in Bombay. After completing his matric at the new era school, he studied at the Ruia college after which he joined his father in this theatrical company "Prithvi Theaters" as a Junior Artiste. Later he signed up as a hero with the Kardar film company, under the direction of Mr. Mahesh Kaul and the film was "Jeevan Jyoti". His first heroine was Chand Usmani. Later, he acted in the films - "Rail ka Dibba" with Madhubala. "Laila Majnu" with Nutan. "Thokar" with Shyama. "Shama Parvana" with Suraiya. "Hum Sab Chor Hain" with Nalini Jaiwant. Sahil, Tangewali, Shaheed Bhagat Singh, Miss Coca Cola, Mohar, Rangeen Raten, Gul Sanobar, Daku, Coffee House, Naqab, Mirza Sahiban, Chor Bazaar, Sipah Salar and some more nondescript films.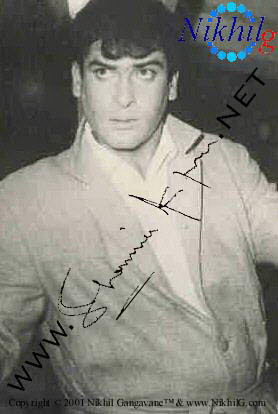 His first big success came with Tumsa Nahin Dekha which was released in 1957. Between 1957 and 1959 he acted in Dil Deke Dekho, Mujrim, Ujala, Singapore, College Girl, Boy Friend, Basant, Preet Na Jane Reet. His first COLOR picture Junglee, was released in 1961 and he became a Star. Between 1960 & 1964 he acted in Professor, China Town, Char Dil Char Rahen, Raat ke Raahi, Dil Tera Diwana, Pyar Kiya To Darna Kya, China Town, Kashmir Ki Kali, Bluff Master, Janwar, Rajkumar. From 1966 onwards his releases were Teesri Manzil, Budtameez, Laat Saheb, An Evening In Paris, Tumse Achha Kaun Hai, Jawan Mohabbat, Prince, Brahmachari, Pagla Kahin Ka, Andaaz, Sachai, Pritam, Chote Sarkar, Jaane Anjaane. He got the Filmfare Award for the best actor for my film Brahmchari.
In 1972 he ventured into a different field of Film Direction for the first time with a film called Manoranjan, adapted from a french play, Irma La Douce (also made by Billy Wilder into a hilarious movie in '62), which starred Sanjeev Kumar and Zeenat Aman. This was an incredible experience but the film met with mediocre success. This was followed by a film with Rajesh Khanna and Sulakshna Pandit called Bundalbaaz. The end result at the box office was miserable. After this he began doing character roles and some of these are: Zameer, Prem Rog, Hero, Meera, Harjai, Yeh Vada Raha, Aan aur Shaan, Betaab, Ahista Ahista, Parvarish, Daata, Wanted, Rocky , Romance, Mama Bhanja, Ek Jaan Hain Hum, Shalimar, Armaan, Badal, Karmdata, Sohni Mahiwal, Ek se Bhale Do, Biwi O Biwi, Salaakhen, Professor Pyarelal, Ehsaas, Allah Rakha, Desh Premee, Bade Ghar Ki Bahu, Balidaan, Himmat aur Mehnat, Mast Kalander, Ijjazat, Batwaara, Hakumat, Ajooba. he had the opportunity to do some films in other languages such as Bengali and Tamil as well.
In 1982 he got the Filmfare Award for Best Supporting Actor in Vidhaata. For a short period of time he produced my own Video Entertainment Magazine called "Shammi Kapoor presents Manoranjan". Six volumes have been already released and then he stopped because there were too many people doing the same thing. In 1995 he got the Filmfare Lifetime Acheivement Award. His recent releases have been: Khule Aam, Lakshman Rekha, Hum Shakal, Tehelka, Chamatkar, Heer Ranjha, Gardish, Pyar Ka Rog, Megha, Dosti Ki Saugandh, Aaja Meri Jaan and a couple of South films. His latest release is a film called Prem Granth which is directed by my brother late Raj Kapoor's youngest son, Rajiv Kapoor and Janam Samjha Karo. He is also doing some serials for the TV, the most enduring being a social melodrama called "Chattaan". It ran for more than a year on the Zee Channel. His most recent films were "Aur Pyar Ho Gaya" with Bobby Deol and Ashwairya Rai and a cameo he did again with Bobby Deol in "Kareeb" which surprised many because they did not expect me to do what he did in the movie. But then that is exactly why he did it.
KASHMIR KI KALI FILM REVIEW
Courtesy - http://www.channel4.com/film/reviews/film.jsp?id=120705
Love rules supreme in this beautiful tale of high romance. Shammi Kapoor and Sharmila Tagore find that romance can transcend money and social status amid the mountains and lakes of Kashmir
Shammi Kapoor was the Elvis of India; his sensual gyrations to Indian rock 'n' roll numbers in the late 50s captured the imagination of the nation's youth. His unabashed physicality woke young India out of the traditional on-screen portrayals of a non-sexual love. Kapoor was sexy and the sheer force of his physical presence as he strutted and pouted his way through the films, often leading his movement with his shoulders, meant that no woman could resist his advances.
Kashmir Ki Kali is another outing for a persona of Shammi Kapoor, one that had been a huge hit in Junglee two years before: he plays a rich man who goes to Kashmir and falls in love with a simple flower seller who doesn't give two figs for his money.
At this point in his career, Kapoor was still able to pull off his jerky, jumpy dancing and pouting looks. Kapoor's character, Rajiv, is all raw emotion and untamed gestures - his mother decides to get him married because on taking over the running of the family business he gives the workers a 500,000 rupee bonus. Rajiv falls in love with someone even more innocent and child-like than himself, the flower girl played by the lovely Sharmila Tagore. This film made her a sex symbol and one of the biggest stars of the 60s.
Most of the film concerns Rajiv and the flower girl falling in love with each other through a series of beautifully staged songs. Music director OP Nayyar had been responsible for producing the rock 'n'roll tracks that made Shammi's Elvis persona come alive in the 50s. Here he moves out of the nightclubs to draw heavily on Indian folk music. The film has some classic hit numbers like 'Kissi Na Kisise' and 'Yeh Chand Sa Roshan Chera' ("Your face that shines like the moon."). Nayyar's composition has a light touch and doesn't throw in many different styles into each song.
Watching Kashmir Ki Kali today you cannot help but be touched by the studied innocence of the story line and the characters. It is as if they are determined to ignore the world around them, the only dark cloud that appears on the lovers' horizon is someone trying to block their plans to marry. This rascal is played by Pran, one of Hindi films best-loved villains. He plotted and schemed his way through so many films that today almost no children are called Pran.
Verdict
This was the decade that Hindi film attempted to ignore the social problems occurring all around it and concentrate on giving the audiences a good time. It gave us films like Kashmir Ki Kali that cheer you up even today and for that we should be truly grateful.
Rediff's Dinesh Raheja on Shammiji -
http://www.rediff.com/entertai/2002/jul/29dinesh.htm
Shammi Kapoor broke the sound barrier in Hindi films. In the gentlemanly 50s and 60s, Shammi yelled the loudest (yahoo! suku suku!) and courted his heroine with the unmistakeable arrogance of good looks laced with pure, almost manic boisterousness.
Here was an effervescent hero who had so much energy that even a 35 mm screen could barely contain it.
Today, the 70-year-old Shammi Kapoor wears a benign expression and a string of holy beads, but in his 20s and 30s, the tall, handsome and light-eyed hero wore a rakish grin and had a string of beauties vying for his attention.
Shammi was born Shamsherraj Kapoor in Mumbai in 1931. His father, Prithviraj Kapoor, a handsome hero with Grecian looks, had just appeared in Alam Ara. By the early 50s, Shammi's elder brother Raj Kapoor too had become famous as a star-director.
Not surprisingly, Shammi Kapoor also joined the family profession in 1953 at the age of 22. But the gawky young Shammi who sported a pencil-thin moustache and greasy, slicked back hair, soon found himself amidst a heap of flops, including Rail Ka Dibba (Madhubala), Shama Parwana (Suraiya) and Mehbooba (Nalini Jaywant).
Shammi's onscreen romantic image was under a cloud; but off screen, his sunny charm had spunky beauty, Geeta Bali, eating out of his palms. A smitten Geeta Bali even convinced Kidar Sharma to cast her in a man's role in his Shammi starrer Rangeen Raatein so that she could accompany Shammi to the Ranikhet outdoor of the film.
The Shammi-Geeta Bali marriage resulted in the birth of son Micky. No longer a carefree bachelor, Shammi was compelled to do some serious rethinking about his screen career. Taking a cue from his Hollywood screen idols, James Dean and Elvis Presley, Shammi decided to reinvent himself in the 'rebel star' mould and minted it to advantage in his first smash hit --- Nasir Hussain's rollicking romance, Tumsa Nahin Dekha (1957).
He cashed in on the public adulation showered on the brash, brattish lover by working out extensions of the same in many of his subsequent films. Big-time stardom came Shammi's way with Nasir Hussain's Dil Deke Dekho (1959) and Subodh Mukherjee's Junglee (1961). In Dil Deke Dekho, he was paired with ebullient newcomer Asha Parekh, while Junglee saw him wooing yet another newcomer, the frail beauty with the shrill voice, Saira Banu.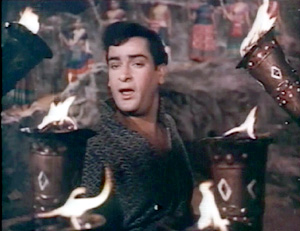 Famous songs picturised on Shammi Kapoor & the Singers

Yun toh humne lakh haseen - Tumsa Nahin Dekha Mohammed Rafi
Yaar chulbula hai - Dil Deke Dekho Mohammed Rafi, Asha Bhosle
Yahoo, chahe koi mujhe - Junglee Mohammed Rafi
Aye gulbadan - Professor Mohammed Rafi
Dil tera deewana hai sanam - Dil Tera Deewana Mohammed Rafi, Lata Mangeshkar
Baar baar dekho - China Town Mohammed Rafi
Tareef karoon kya uski - Kashmir Ki Kali Mohammed Rafi
Aaja aaja - Teesri Mazil Mohammed Rafi, Asha Bhosle
Aasman se aaya farishta - An Evening In Paris Mohammed Rafi
Aaj kal tere mere pyar ke charche - Bramhachari Mohammed Rafi, Suman Kalyanpur
With Junglee, Shammi gifted the Hindi film screen dictionary with a new word of exultation: Yahoo! Charged by the word and the accompanying Shankar Jaikishen-composed song, Chahe koi mujhe junglee kahe, Shammi gleefully tumbled down snow-covered hills while shooting this number. His knees hurt to date.
Hugely-catchy Mohammed Rafi songs, pretty new heroines and a plot often as fluffy as the Simla snows became an important part of the Shammi Kapoor experience. Aware of the import of songs, Shammi Kapoor took a keen interest in music sittings and also ensured he had as many, if not more, song as the heroine. Producers were more than happy with Shammi's keen interest in music because his uninhibited dancing to songs like O haseena zulphonwali and Aaj kal tere mere pyar ke charche became the rage.
Shammi's sense of rhythm and timing also helped him generate big laughs. One of Teesri Manzil's most treasured scenes is the train sequence where Shammi attempts to give an overweight co-travellor an attack of the giggles. In Professor (1962), Shammi gave an undervalued performance, proving to be a mirthquake as the disguised-as-an-old-man professor who unwittingly melts the heart of an iron-hearted old lady (Lalita Pawar).
Through the sixties, Shammi spawned a constant flow of successes like Raajkumar, Janwar and An Evening In Paris. However, while he soared as a star, his capabilities as an actor were suspect. Titles like Junglee, Budtameez, Bluff Master only strengthened his image of an actor up to monkey tricks.
But Shammi jolted the critics with his charged performance of a murder suspect wanting to exonerate himself in the racy thriller, Teesri Manzil (1966). His turn as the sensitive bachelor who provides home and love to orphans in Bramhachari (1968) won him the Filmfare award for the Best Actor.
Unfortunately, Shammi lost Geeta Bali to small pox in 1965. His second wife Neela Devi, brought a semblance of serenity in Shammi Kapoor's turbulent life and proved to be an ideal mother to his son and daughter.
However, at the close of the 60s, Shammi Kapoor proved to be a walking monument to bad career moves. Pairing with a new generation of heroines like Leena (Preetam) and Babita (Tumse Achcha Kaun Hai) underlined the fact that he had let himself go --- his hair was thinning, his girth expanding.
The emergence of a new romantic icon, Rajesh Khanna, also had major repercussions. Shammi's regular director Shakti Samanta shifted sights to Khanna. The Khanna-Samanta combine produced a megahit like Aradhana while Shammi and Samanta had a dud that came down with a thud, Jaane Anjaane. Even Shammi's paring with lucky mascot, Asha Parekh, now resulted in disappointments like Jawan Mohabbat and Pagla Kahin Ka.
Shammi Kapoor's Landmark Films with years and Co-actors

1957 Tumsa Nahin Dekha Ameeta Ameeta
1959 Dil Deke Dekho Asha Parekh, Bhumika
1961 Junglee Saira Banu
1962 China Town Shakira
1962 Professor Kalpana
1964 Rajkumar Sadhana
1966 Teesri Manzil Asha Parekh
1967 An Evening In Paris Sharmila Tagore
1968 Bramhachari Rajshree
1971 Andaaz Hema Malini
But all was not lost yet. Shammi Kapoor delivered an remarkably restrained performance in Andaaz (1971) as the widower who falls in love with a widow (Hema) --- his most uncharacteristic and one of his best roles. Unfortunately, here too, he had to share the limelight with Rajesh Khanna who thundered with Zindagi ek safar in a special appearance.
Recognising the signs of the times, Shammi Kapoor changed tracks to direction. He chose to remake the raunchy comedy, Irma La Douce, and cast Zeenat Aman as a street walker in love with a bumbling cop, Sanjeev Kumar. Shammi played a jovial pub owner. Produced by his loyal producer and business associate, F C Mehra (Singapore, Professor, Prince), Manoranjan boasted of R D Burman delights like Goya ke chunanche but failed to give a new twist to Shammi's career. Shammi next made an Arabian Nights' fable, Bundalbaaz, with Rajesh Khanna and played a genie, but the magic failed to rub off on the film.
Today, Shammi Kapoor occasionally acts in films and makes rare appearances at premieres. The virtual reality of computers and the spiritual realm take up more of his time than than the make-believe world of films.